Full Access Personalized Coaching With Tom Allsopp
This monthly training program will provide you with the technical adjustments and tailored training methods to take your game to the next level. 
Get The Advice You're Searching For
Hi, my name is Tom Allsopp. I specialize in understanding the specific mechanics of each player's strokes and providing simple methods to allow players to move their body and racket in a more efficient, coordinated, and repeatable way. Whether you're a beginner or professional player, I am able to replicate your movements and demonstrate how you can make specific technical adjustments next time you're on court.
This coaching program isn't about me playing "spot the difference" between your forehand and Djokovics'. It's about working with you to discover how best to help you achieve your goals, while providing you with technical adjustments tailored to your game.  However, by achieving a more coordinated stroke you'll look a lot more like Djokovic!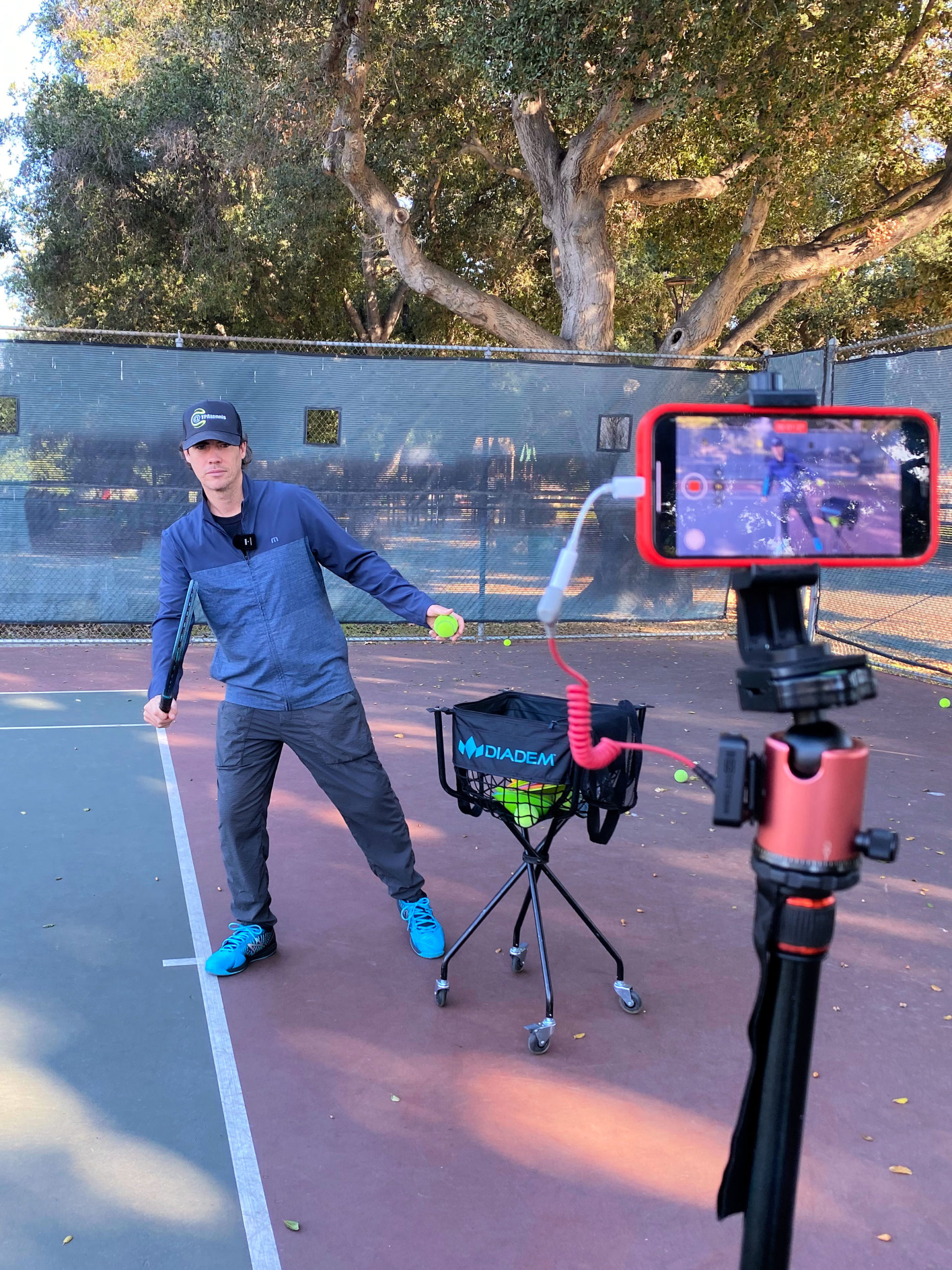 HOW I CAN HELP YOU IMPROVE YOUR GAME
Based on my experience training thousands of players, I've developed a methodology that works.  Watch the video below to understand my process for improving your game.
HOW IT WORKS
This monthly training program allows you to send unlimited videos! You are able to focus on as many strokes as you like.  My analysis will be provided with  either on court demonstrations or video analysis from my computer- whichever I feel will best help you! Each stroke you send requires research and a thoughtful response. Therefore each video may require separate analysis and can take up to 48 hours.
You can reach me anytime via email or text to ask me any questions you may have regarding your game. 
The full video analysis format is as follows: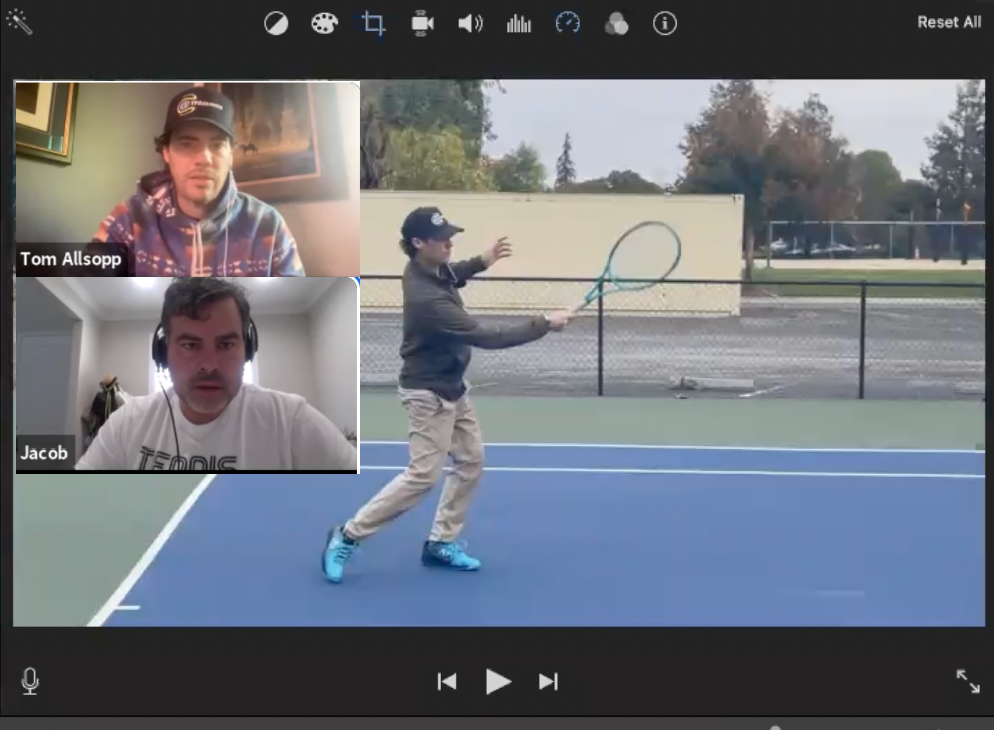 ZOOM CALL
After you sign up, you can send me your 1st video. I'll contact you to schedule a one-on-one Zoom call to discuss what you are currently working on and what you are looking to get out of this training program. 
I will also analyze your video with screen sharing software and provide you with practical advice and methods for your next training session.
UNLIMITED TENNIS COACHING AND DIRECT ACCESS VIA TEXT AND EMAIL
After the initial Zoom call, you can send me follow up videos of your progress, or send additional strokes. You can articulate your thoughts or ask me any questions via video or email.  
Expect a video response within 2 business days, and same day email responses. I will analyze your progress, answer questions, and demonstrate what I would like you to focus on in your next training session.  My videos will be kept private and uploaded to Google Drive.
I will act as your tennis coach on demand and you can send me unlimited videos and contact me at your own convenience.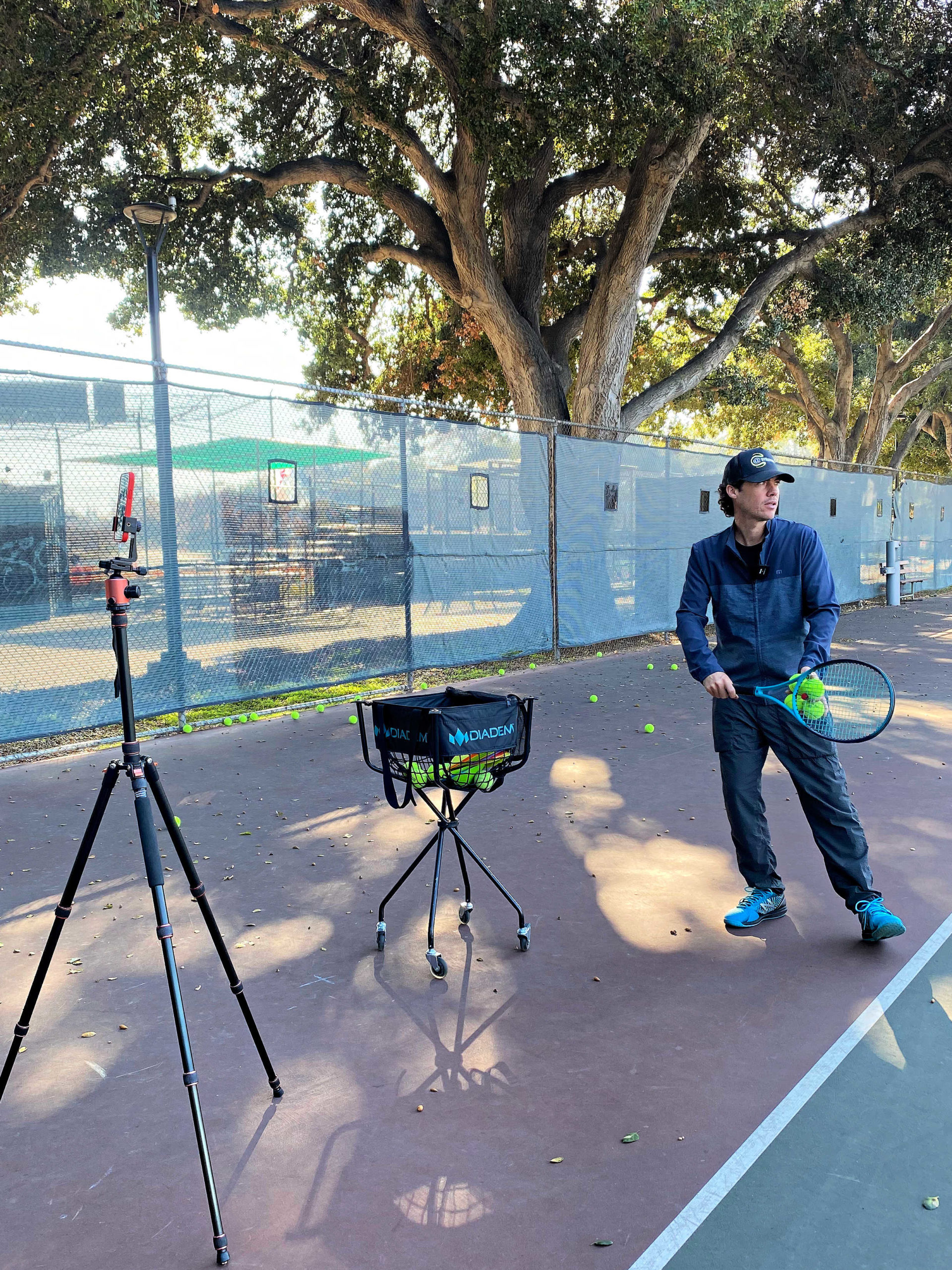 CONTINUE WITH YOUR PROGRESS MONTH TO MONTH 
At the end of the first month we can continue to work together, sending videos back and forth.  Each additional month will be $99 (50% off!). 
You can cancel at any time!
Ultimately, my primary objective is for you to improve your tennis game and meet your goals.  I want you to feel like you always have access to me, allowing you to step on court with the knowledge of how to improve your game.  
Your satisfaction is my goal! 
MONTHLY TENNIS TRAINING SUBSCRIPTION
With Tom Allsopp
$99/Month
Initial Consultation Fee $100 (First Month Only)
First Month Includes 1 LIVE Zoom Call
Plus Unlimited Video Analysis Recordings 
Cancel Anytime
HERE'S WHAT MY STUDENTS ARE SAYING
TESTIMONIALS

I'm fortunate to play at a national tennis training center where I have access to some of the best coaches in my country. However, each coach just showed me how to play like one of their favourite ATP players. No one adapted their coaching to me. It's like teaching a student how to dance by ballroom dancing in front of him and then asking him to repeat…without music. And repeat…
Video analysis is the way to go. Tom dissected my stroke and found one fundamental flaw that no one had seen. My balls are now more consistent and penetrating. I'm more confident so I'm more relaxed. My strokes are smoother and timing easier which cycles back and helps all parts of my forehand.
Tom unlocked my forehand. His greatest strength is that he doesn't overhaul everything. He works with what you've got. Within a short time, your feel for the ball will improve and I guarantee you'll play better and have more fun. And isn't that what it's all about?

Tom provides incredible value with his video analysis! I have been consistently sending Tom videos over the past 6 months and he always has something valuable to say in his video response. I don't think I could have made better progress with any other method. Thanks Tom!

Tom is the most technically knowledgeable coach I have worked with and I have worked with many coaches. He will dive in and perform a deep analysis of what's wrong with your stroke and provide direct feedback on what needs to be corrected. He identified a key fundamental issue with my forehand that no other coach had ever pointed out. I wish I had worked with Tom a lot earlier, it would have saved me a lot of headaches.

Hey Tom – just wanted to give you an update on the league I was competing in – this is my 4th year doing it and Ive been in the same division (3.5/4.0 ish).  I've been crushed – like 2-10 every single year – until this season. I did very well and just beat a solid player in the semis and I'm on to the finals.  A massive thanks to you – I attribute a level boost to all the video correspondence we have done. I owe you a nice write up / ref for your website – will put that together.  All the best – Jay (I asked Jay if I could use this as his review)

After working with Tom for just one month my forehand improved far more than months of instruction at my local tennis club.  My form was terrible for years because no one ever pointed out what I was doing wrong and how I could improve.  By making small tweaks to my technique, I drastically improved the consistency and power of my ground strokes. Would highly recommend!

We have been using Tom's video analysis and online zoom coaching services for 10 months now and cannot recommend Tom highly enough. Tom provides the ability to pick apart strokes at a fundamental biomechanical level so you know why shots are working and why they are not. The reason we have been working with Tom is that it is very easy to develop shots that work at one level but when players step up subtle flaws become exposed and it is so much harder to unpick the problem once the fault has become embedded in muscle memory. By ensuring the strokes are fundamentally sound at the outset we have confidence that the platform is there for the future. If you are serious about developing the best technique you can, Tom is the coach for you!

Tom has been a great help to me in rebuilding my forehand. I've been looking for a teacher for years who can explain to me how the stroke works from a biomechanical point of view, and that's exactly the resource Tom has been able to bring.
The stroke has felt better every week, which means that the strike is cleaner, I have more power, and I'm doing all of this with less effort. I continue to work with Tom to improve all of my strokes.

It's rare that you come across a standout coach like Tom. He stands out above the rest with his tennis acumen coupled with his exceptional communication skills. I had the pleasure of working with Tom for two months to improve my forehand and serve It was through this experience that I got to see Tom in his area of expertise – identifying the key technical flaws and formulating innovative yet the most practical solution to improve your strokes.
Beyond his ability to provide you with exceptional coaching, Tom was always available to chat and was extremely friendly and generous with his time.
Tom has earned my highest respect during our time working together and I'm absolutely certain that he will earn yours as well.

I coach a boys tennis team in Charlotte, NC and we have been using TPA Tennis video analysis services to help in the development of our high performance kids. Tom has been a tremendous value in providing detailed analysis of our matches. We find his analysis to be very professional and insightful and a good complement to our on-court live instruction and coaching. Tom has a great understanding of the learning process and how to efficiently and effectively help players.

I've been hitting for about 10 years just for fun and decided to make an honest attempt at getting better. I came across Tom's videos on YouTube and found the general videos he made really helpful but it wasn't until I contacted him and took his online coaching where he would help me specifically and mate…. he knows his sh*t!
In 6 weeks I'm easily a better player with much more tools and really looking forward to working with Tom over the next 6 months to a year to see what we can cook up together.

Sometimes as coaches we can get caught up in only addressing stroke production. Tom not only looks at the big picture, his teaching philosophy outlines how one thing influences another. It's like a jigsaw puzzle where all the pieces fit perfectly. It makes it easy for the coach, and easy for the student to understand how to become better. I would strongly suggest that anyone that wants to improve as a coach contact Tom Allsopp.

Tom is truly a professional tennis coach. 'Professional' implies dedication, efficiency, creativity, and a genuine relationship with their profession. Tom is not a replacement 'ball feeding machine with a voice'. He is an accomplished student of the game, continually investigating methods of how to help others learn, ever more quickly to become a genuine game playing tennis player. Tom cares about his players and the game. He is the real deal and the best value coach in town.

Tom and I started discussing tennis coaching methods about 3 years ago. He understands the skills that are required to play this game and how to effectively teach them. It's a refreshing change from basket feeding and generic technical jargon. I would really encourage any parent, player or coach to contact Tom to see how he can help you. You will definitely learn many things that are not easily available or often discussed. I will continue to reach out to Tom as I improve my coaching and the coaching of others around me.